ZELDA'S BACK, BABY *rapturous applause*.
Because of the current hubbub about Link's gender in the trailer, I'm referring to them as male purely because that's what Link's always been up to now. I'd love to play as a female Link, though! 
So, Nintendo had a pretty good E3, right? Let's talk about the best bit of it – that thirty seconds of super sexy Zelda gameplay we saw.
HERE'S THAT ONE SCREENSHOT THAT WE ALSO USED FOR THE FEATURED IMAGE (click for embiggening)
Right then, let's fire up the analysis machine. I could talk for ages about this screenshot, but luckily, Midnight Resistance's Andi Hamilton has already done the work for me. What I will say, though, is this: that landscape looks awfully like the general layout of underwater Hyrule from Wind Waker – from a different position in the world. If we look to the far distance, in the middle of the image, there appears to be a few spires, and to the right, a body of water. Could it be that that area is actually the one below, from Wind Waker? (This is a view never seen in the game, but is in fact an image taken with a free camera mod).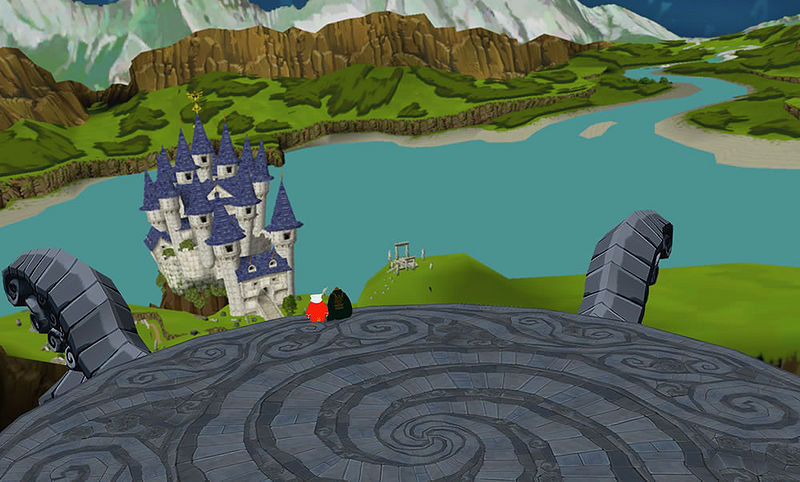 Of course this isn't conclusive. But it should be noted that very few of the previous Zeldas have featured a particularly mountainous Hyrule – the only one that has being Wind Waker. There's a few other links, too, including the art style. I'd pitch that the new Zelda isn't built on the Wind Waker HD engine (itself just a port of the Gamecube's Mario Sunshine/Zelda engine), but it's clear Aonuma's taken a LOT of cues from Wind Waker HD's style. Let's have a look!
Flat colours! Some detailing, but not too much! Lots of brightness! Cel shading! It's 1) beautiful and 2) very Wind Waker. Also: that shirt. Link's not in his traditional green tunic, which is weird in itself, but notably in a sky-blue top with white detailing, which will be familiar to anyone who played a significant amount of Link's Gamecube outing.
Now, I'm not saying this game is a sequel to The Wind Waker. I'm saying it's a prequel, with ties to another fan favourite game.
Wind Waker starts with a hefty load of exposition, that handily explains the events of Ocarina of Time and afterward. Wind Waker takes place in the 'Child Link' timeline – i.e. the one where Link gets sent back in time to live as a kid again, but instead fucks off to look for Navi. The events of Majora's Mask occur – a game based heavily around bereavement and loss, and the realisation that you can't ever save everyone in a single 3 day cycle. Between Ocarina and Wind Waker, Ganon rises again, but is not defeated – rather, King Daphnes locks Hyrule below the ocean, drowning a huge majority of the Hylian population.
What if Zelda U is about Link failing to defeat Ganon? Nintendo's been dropping heavy Majora's Mask references recently, with significant hints in A Link Between Worlds (notably the Dark World fanatics wear very Majora-style masks themselves, plus there's the mask itself in Link's house), Aonuma talking about the game a lot, and Zelda Williams carrying a model of Majora's Mask on stage at the Smash invitational. MM was about a number of various dark themes, but chief among them was the hopelessness the moon represented.
I wouldn't be surprised if that's a central theme for the new game. If we're told at the start that the game takes place before Wind Waker, then we know that we are doomed to lose. A true convention breaker, since this title is all about that, according to Aonuma. The entire game centred around that one fact – that this Link is not the Hero of Time, that he cannot defeat Ganon, only weaken him enough to set up the events of Wind Waker. How amazing would that be?
Anyway, enough of that theorising. Let's talk about other parts of that trailer.
If I had any clue what the hell this thing is I'd tell you. It might be a robot? But it could also be organic? It looks like it's got plants actually growing on it, so it must be pretty old. It shoots lasers and stuff and makes things burst into dynamic-light-source-flames, which looks awesome. It also destroys parts of the environment – could Zelda U be going all Battlefield on us with Levolution?* We just don't know! And this time I don't even have any wild theories! MOVING ON.
This is some kind of light arrow thing. As GameXplain pointed out, Link actually pulls a trigger to 'turn it on,' and it seems to be an extra special type of arrow, because it's not kept in his quiver. This confuses matters even further – is this a Hyrule with futuristic technology, meaning that thing COULD be a robot, and those lasers it fires actually sci-fi lasers and not magic lasers? UGH AONUMA YOU'RE NOT ANSWERING ANY QUESTIONS HERE.
I'm tired now, but much like Smash's reveal last year, Aonuma's 30 seconds of Zelda gameplay has more to discuss than any damned CG trailer most of the other companies showed. I'm already dying to see and hear more. I squealed a bit when that shot of the field came up. Feed me your Zelda heroin, Aonuma. Do it. I love it.
*I'm not even sorry for bringing up this ridiculous marketing term again